Campus Learning Center (Child Care)
The Campus Learning Center for Children (CLC) provides quality care and age-appropriate education to young children in an environment of love and respect for God and all of his children. The CLC strives to instill a sense of belonging, independence, mastery, and generosity in the hearts of our children.
The CLC is licensed by the State of South Dakota and is open 7:30 a.m. to 5:30 p.m., Mondays through Fridays. Children are enrolled on a full-time basis in one of two age-specific programs; Toddler Programs (ages 1-3 years) and Preschool Program (ages 3-6 years). A Kindergarten Readiness Program is also provided in the mornings (8:30 a.m. - 12:30 p.m.).
Please take look at our new COVID 19 Health and Safety Protocols (updated, Sept. 10, 2020).
A planned program is provided according to children's developmental needs. Children are exposed to the alphabet, phonetics, numbers, Spanish, and sign language story books.
Services are available to children with special needs in accordance with Augustana's non-discrimination policy and the staff-child ratio is administered to result in the least restrictive environment that is most beneficial for the child.
Campus Learning Center Staff

Judy Knadel — Director of Campus Learning Center
Judy began working at the Campus Learning Center as a teacher in 1988. She has a teaching certificate and a Master's in Special Education from Augustana University.  She became the learning center director in 2001. She loves teaching and getting to know the children and families.
 Amy Cisar — Head Toddler Teacher
Amy began working for the Campus Learning Center August, 2020. She enjoys creating a space for children to gain self-esteem and confidence. Since her time here, Amy has demonstrated her expertise and patience in the toddler room. Amy loves the Augustana community and is happy to be working among us. Amy and her husband, Topher, have five children.

Nina Ulrich — Head Preschool Teacher
Nina started  working at the learning center in 2012 as a substitute teacher. After serving in an assistant teacher role, Nina moved into the head preschool teacher position in 2015. Nina has been married for 27 years and has two children of her own.

Kary Best — Toddler Teacher Assisant
Kary has a Bachelor's in Elementary Education from the University of Vermont. She has worked with young children in Vermont, Iowa, Illinois and South Dakota. She has been at the learning center since 2014 and loves working with toddlers because they are loving, funny and full of energy.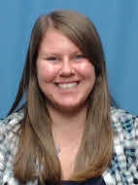 Courtney Olawsky — Preschool Assistant Teacher
Courtney began as a student employee at the learning center in 2013. She graduated from Augustana in 2017 with a degree in Elementary Education. After graduation she began working at the learning center permanently. She continues to enjoy watching the children learn and grow.
Contact Information
The Campus Learning Center for Children is located adjacent to the campus at Our Savior's Lutheran Church at 909 West 33rd Street.
For information about enrollment and rates, email Judy Knadel at jknadel@augie.edu or phone: 605.274.4701.