Hovland Center for Liturgical Arts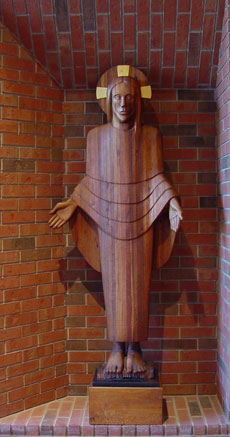 Glorified and Risen Christ located in narthex of Chapel of Reconciliation. Created by Palmer Eide. Laminated walnut. 1980
The Hovland Center for Liturgical Arts (HCLA) connects area churches, clergy, visual and performing artists and architects through networking and education.
Solve
The Center seeks to be a resource to clergy and congregations that are initiating building and remodeling projects or exploring ways to enhance the liturgical arts in their churches. View commissioned work examples.
Search
The Center provides a searchable database of photographs that document the visual art of churches in the area. The database is available by appointment Monday - Friday. Contact John Peters at 605.274.5424 to schedule an appointment. 
Consider
Periodic lectures and other events on campus stimulate conversations about how the arts enrich faith and advance theological understanding, fulfilling the Center's role as a focal point for education and communication around liturgical arts.
Connect
The Center also is becoming a place of connection and a catalyst for bringing together those whose work is manifested through liturgical arts.
Create
The Center also encourages and supports the performing arts used in liturgy and worship.
Continue a Rich Legacy
The history of the Hovland Center for Liturgical Arts is grounded in the life and work of three members of the Augustana art faculty: Robert Aldern, Palmer Eide and Ogden Dalrymple.
Augustana thanks Howard and Eunice Hovland for their sustained and generous financial support.
The Center welcomes your inquiries about resources and suggestions for programs.